Colored lash extensions are the latest trend sweeping the industry. These vibrant and personalized extensions can transform your look in a playful and dynamic way.
Colored lash extensions are a fun and trendy twist on traditional eyelash extensions. Instead of the classic black or brown, you can choose from a wide spectrum of colors, including blue, green, purple, pink, or even striking ombre effects. These extensions are applied individually, adhering to your natural lashes with a semi-permanent adhesive, much like traditional lash extensions.
Why Choose Colored Lash Extensions? 
Clients often choose colored lash extensions for the following reasons:
Unleash Creativity: This extension offers a unique canvas to express your individuality. You can match your mood, outfit, or even the season, giving you endless options for creative expression.
Elevate Eye Color: Colored lash extensions can make your natural eye color pop. By selecting colors that complement your eyes, you'll create a stunning contrast that's sure to turn heads.
Customizable: Colored eyelash extensions are semi-permanent, so you can change your look whenever you please. Whether it's a vibrant blue for summer or a romantic pink for Valentine's Day, the choice is yours.
Perfect for Special Occasions: Colored lash extensions add a touch of whimsy to special events like parties, holidays, or festivals, making your makeup stand out even more.
Types of colored lash extensions
In terms of lash colors, we can divide lash extensions into 6 main types as follows:
Red
Eyelash extensions in a vibrant red color are a great way to start off! Vibrant red extensions are the ideal accent to flaunt team spirit or demonstrate to loved ones how to properly celebrate the holidays! 
Brown
We understand that not all clients are prepared for a striking red lash. In such situations, brown eyelash extensions offer an ideal solution. These softly-hued eyelash extensions introduce a noticeable sense of depth and dimension without attracting excessive attention. In summary, they serve as an excellent entry point into the realm of colored eyelash extensions.
Green
Sometimes, overlooking these stunning colored lashes could be a missed opportunity for your clients. Enhance the beauty of your green-eyed clients with green eyelash extensions! Consider this a valuable addition to your professional lash kit that you shouldn't overlook.
Purple
Elevate the drama with purple eyelash extensions! We've always been up for a challenge and we're certainly not backing down when it comes to purple lashes. This daring eyelash color will encourage even your boldest clients to step out of their comfort zones and embrace this distinctive and eye-catching look.
Blue
Illuminate the faces of your blue-eyed clients with a set of blue eyelash extensions! These colored extensions are the perfect complement to any set of captivating blue eyes.
Rainbow
Rainbow eyelash extensions are exclusively for fashion-forward clients who embrace the extraordinary and want to make a bold statement. You can subtly blend these vibrant lashes with black eyelash extensions for a more understated look. Alternatively, go all out and amplify the glamour with a full set of rainbow eyelash extensions. Whichever choice you make, your client is sure to leave everyone in awe with these striking additions.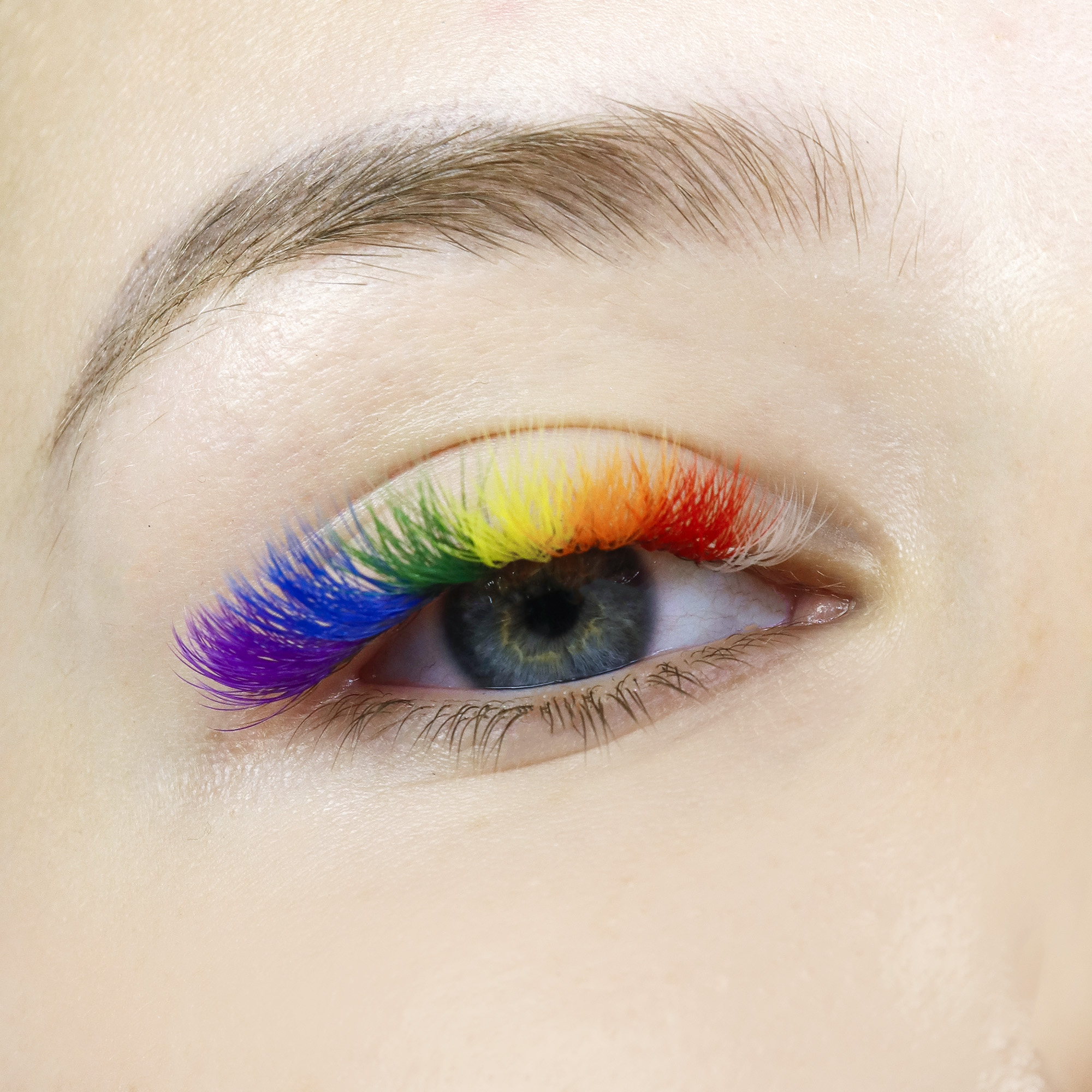 In conclusion, colored lash extensions are more than just a beauty trend; they are a canvas for creativity and self-expression. With a range of vibrant colors to choose from, these extensions offer a unique way to enhance our natural beauty and make a statement.
Contact us today to purchase the best colored eyelash extensions!